Docking Drawer, the world wide market leader of in-drawer electrical outlets, now offers Canadian Electrical Code (CEC) CSA 22.2 Listed in-drawer charging outlets perfect for creating in-drawer charging stations, keeping technology charged and countertop cord clutter to a minimum. Also offered are in-drawer powering outlets ideal for powering hair dryers and curling irons in bathroom vanities, or anything requiring up to 20 amps of current, like stand mixers.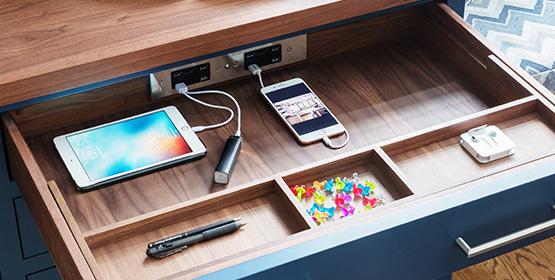 CSA Approved Charging Outlets

Docking Drawer Blade USB and Docking Drawer Blade Duo USB charging outlets featuring only USB-A outlets (no AC outlets) are designed to charge today's technology including cell phones, tablets, fitness trackers, smart watches, and more. They stay energized and charge your technology when the drawer is closed.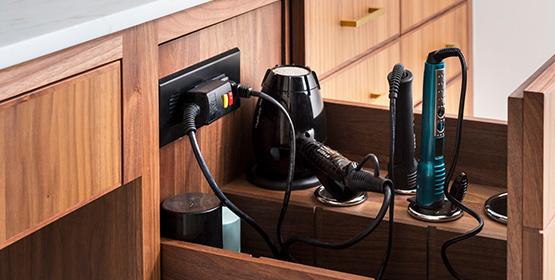 CSA Approved Powering Outlets

Powering outlets can be used to power everyday small appliances – from hair dryers and flat irons in your bathroom to stand mixers in your kitchen. Offering a max of 20 amps, they feature 2 levels of interlocking safety features—an interlocking thermostat which will cut power to the outlet if the surrounding temperature exceeds 120°F and an Interlock Box that cuts power to the outlet when the drawer box starts to close.
Electrical Certifications: What Does It Mean to Be Listed?
Listing to a safety standard such as UL962a, CSA22.2, RCM or CE means that an independent, accredited safety laboratory has tested your product to ensure that it meets all the requirements of the standard. All standards have different required tests. Here are some examples of what CSA 22.2 and UL962a testing includes:

Cycle testing of the entire device
Ensuring that the electrical ground is safe and robust
Subjecting the device to extreme temperatures and humidity
Evaluating individual components (ie; circuit breaker, thermostat, wires, and connectors) and ensuring they are suitable for use in the specific design
---
Docking Drawer Outlets Are Evaluated by ETL, Not UL. What's the Difference Between ETL and UL Listed?
ETL and UL are both Nationally Recognized Testing Laboratories (NRTLs), which are independent laboratories recognized by the Canadian Centre for Occupational Health and Safety (CCOHS). They are both accredited labs that test products to the specifications of product safety codes. Intertek, our product testing company, uses the "ETL" symbol as their approval mark. All Docking Drawer outlets are tested and certified by Intertek-ETL. Docking Drawer is in compliance with accepted national standards (UL 962a and CSA C22.2). Inspectors have recognized and approved certified products by Intertek-ETL for over 30 years. Intertek, originally part of the Edison Illuminating Companies, is accredited by the Standards Council of Canada (SCC).
As far as regulatory approval goes, there isn't a difference between ETL and UL listings. Inspectors treat them equally as they're both approved by the Canadian Government as NRTLs.
---
What is Required for an In-Drawer Outlet to be CSA 22.2 Listed?
Section 26-710 (h) of the CEC states that AC outlets are prohibited behind cabinet doors and in-drawer except for use with dishwashers, disposals, exhaust hoods and a few other exceptions.
The CEC states that USB ports are allowable so all Docking Drawer Blade USB and Docking Drawer Blade Duo USB in-drawer outlets are CSA 22.2 approved and allowable for installation in Canada.
The CEC states that AC outlets are allowable in a drawer if the outlet is de-energized when the drawer starts to close more than 20% So all Style Drawer Blade in-drawer outlets AC outlets that de-energize are allowable for installation in Canada.
---
How do Style Drawer Blade In-Drawer Outlets De-Energize when the Drawer Starts to Close?
Up until now, there was no standardized or repeatable method to de-energize an outlet in a drawer. And so, individuals would resort to switches or other means—neither of which was ever tested for safety standards. Plus, with time, both solutions can become uncalibrated, which can cause big safety problems.
The Style Drawer Blade outlets with the Docking Drawer Interlock Box can easily be installed between the cabinet's electrical supply and the Style Drawer Blade handy box. It serves as an interlock which cuts power to the outlet if the drawer box is not fully open.
Using a micro switch to detect the position of the drawer box, the Style Drawer Blade Interlock Box increases the level of safety provided by our outlets. And as with all our products, this low voltage switch has been extensively cycle tested to ensure trouble free use. Should an issue arise or if the micro switch becomes disconnected from the interlock box, power is automatically cut to the outlet
---
Does Docking Drawer Share Its CSA Listing Publicly?
Of course, you can see our CSA 22.2 Listing here or view our Intertek CSA listing (CSA Only) on the Intertek site. You can even share it with your inspector if needed.
---
Rather talk to an outlet expert? Call us at (530) 205-3625